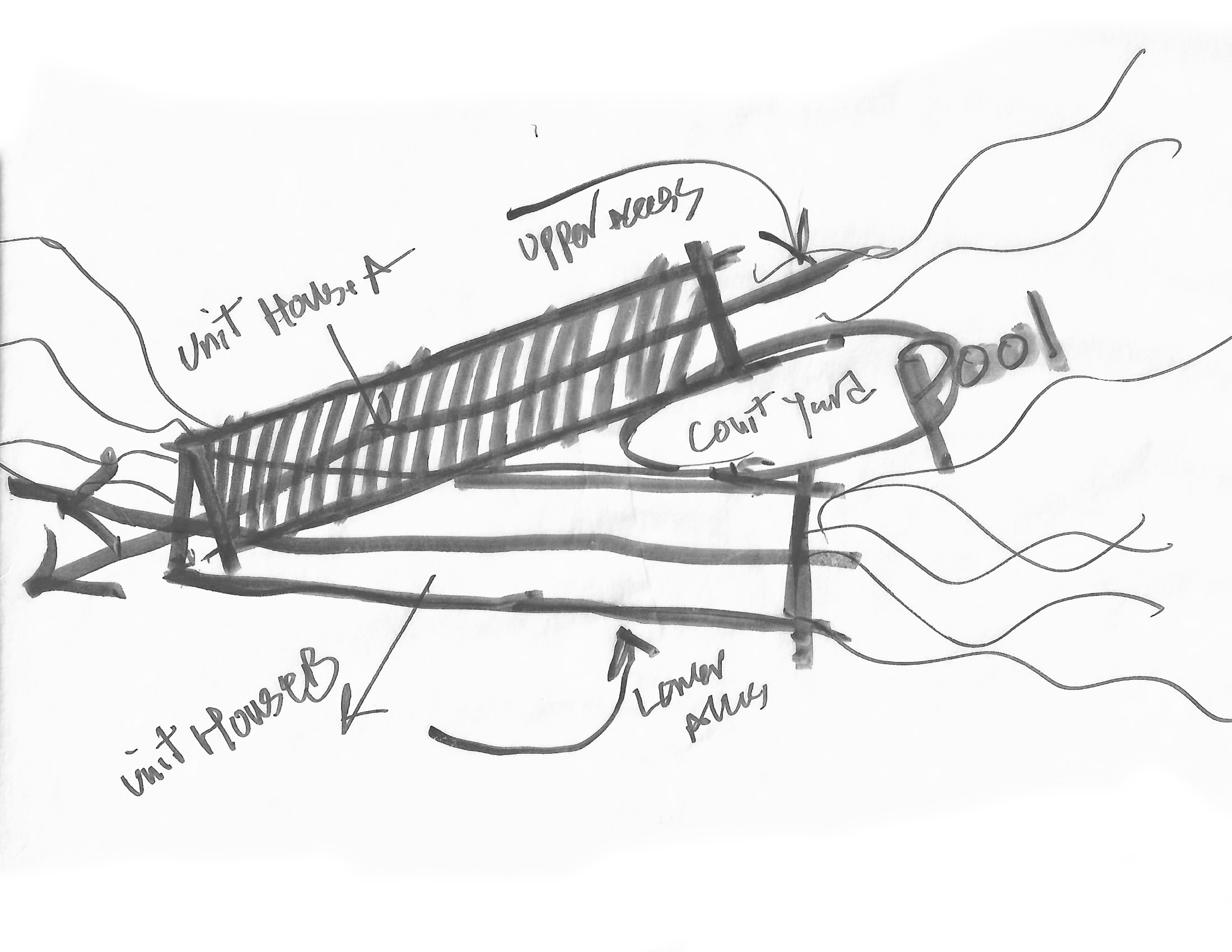 In the design and development of the Yardscape house, we have asked two main questions which helped us with a very unique and a site-specific design approach. First, how to incorporate land slope as an opportunity to maximize the constructible square footage of a single family residence based on the California R1 zoning guidelines. Secondly, how to incorporate landscape and slope as a tool to create an intimate environment for a modern, 21st century house?
To answer the first question, the design team has planned the house in a way that it uses the upper and lower level driveway to provide proper car and pedestrian access. Upon creating the two separate access possibilities, the idea of creating two units took shape. Using the lot boundary set back line and lower level road direction, two axes are created. Through the collision of these axes the volume of the building a court yard is created which let the light and view intimate spaces. The building suggests the projection of northern part at the third floor to create a framing view to the northern horizon perspective. This way we can meet the desire for maximum square footage, 35' maximum construct bale zoning height and the need for the 360 degree fire access all around the house.
To create the intimate environment of a house, the Yardscape house uses the geometry of the site to create a yard which brings and distribute light as well as providing a view to the interior spaces. Exploring the need for creating the internal privacy between the spaces of the two units and the interior spaces, has offered a formal gesture which represent a mounting volume that connects the lower part of the land to the upper parts. Through a meticulous landscape and pool design, the house benefits from the existence of a semi central court yard which could be used as kid's playing area and etc.
Location: Hunky Dory Lane, Trabuco Canyon, Orange County, California, USA Client: BZ Construction,  Architects: QASTIC LAB Design Team:  Mahdi Alibakhshian, Nguon Keat Tiv,  Ning Yi, Soroush Sasanian, Clair van der Swan, Connor Van Cleave, Maryam Laleh Design Consultants: Mohamad Momenabdai - Nathaniel Hadley Structural Engineering: Jeta Engineering Civil Proactive Engineering Consultants,  Area 5000 SQF, Project Year 2016-Present , STATUS Design Development / On the Boards